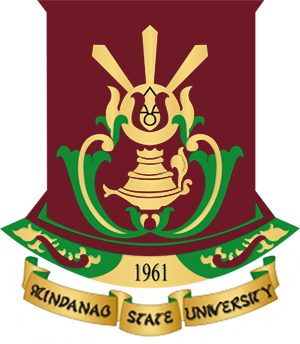 Download High Resolution MSU Logo
The Mindanao State University seal was created by an anonymous student with a very good sense of culture and vision. The three rays on top stand for the Mindanao, Sulu and Palawan (MINSUPALA) regions which were the main thrust of MSU at its inception. The lamp in the middle signifies the light with which to guide the people in their quest for knowledge. Finally, the fish and the "okir" symbols around the lamp along with the color scheme represent the unique and impressive culture of the Maranaos in the area surrounding the Mindanao State University.
The MSU Hymn
"Himno ng Pamantasang Mindanao"
Music by Lucio San Pedro
Lyrics by Prof. Angelito G. Flores
Silahis ang katulad mong
Nagsabog ng liwanag,
Ng pag-asa't hangarin
Ng pag-unlad
Ang pook ng Mindanao
Tinanglaw't pinalad,
Nang ikaw'y isilang
Na dakila ang hangad.
Ating ipagkapuri
Itong pamantasan
Ang buhay at pag-ibig,
Sa kanya'y iaalay
Saan man naroon ay
Bigyang karangalan,
Dakilang paaralan
Pamantasang Mindanao.